Welcome to our guide on what are sideboards!
The who, what, when and why of everything you need to know about sideboards.
Our customers send us numerous questions about our furniture. Whether they want to know about our stock status, a specific colour of paint, or type of material used. We get ton's of question's about our furniture selection.
Side boards are among the most common dining room items we have. So naturally, this leads to many inquiries from our loyal customers. Our large variety includes many different types and designs of buffets and credenzas. 
Among the most common queries are:
What are sideboards?
What are sideboards used for?
Where to use a sideboard?
Sideboard types
Also
Why are sideboards so expensive?
And most importantly…
Thus, we decided to put together this guide to help answer some of your most important questions.
Hopefully through this guide you will it easier when trying to chose the ideal sideboard for you.
And if nothing else you will gain a background to these versatile furniture pieces. 
What will I learn?
A guide to sideboard history – where and when did they first appear?
Buffets, sideboards and credenzas, why the difference in a name?
Sideboard types and uses, including those for the hallway, bedroom. living, kitchen and dining room
Benefits of owning a sideboard
Best sideboards and buffets for your money
FAQ about sideboards
First we will tackle the basics, which includes its history and usage. We will then move onto the modern-day sideboards and finally conclude with where to find cheap sideboards for your home?
Our guide goes through all the different sideboard types that are ideal for your dining area, living room and hallway too. We will include traditional to modern sideboards, in all sizes from single doors to more solid 4 doors sideboards.
Those with and without drawers, different types of designs and the variety of colours to the materials used.
We will then move on to why you need a sideboard, answering some faq and then finish with what is the best sideboard for your money?
Hopefully today, we will be answering all your questions and more with our ultimate guide on sideboards and buffets.
Sideboard types history 
A very common question we get is what are sideboards? Well wherever you call it a sideboard, side board or a buffet, this timeless piece of dining room furniture has been around since the 1600s.  
Found in England and Scotland, it was also used in various European countries like France, Belgium, Poland and others.
Initially, it was seen as a social 'status piece' which only the wealthy would use to place kitchen and dining-ware in their dedicated dining rooms.
Its drawers were used for knives, forks, spoons and similar utensils. While it's cabinets, were used for larger items like dinner sets, teapots etc.
It was the perfect way of keeping dinnerware organised and stored safely out of the way.
Its surface became the perfect tabletop to serve hot food from and help make more space on the dining table for eating at mealtimes.
Original sideboard designs
Initially, the sideboard was designed as just a wooden plank fixed onto a wall and sometimes built with legs. It was placed near the dining table and was primarily used to put on lanterns, candles, serving dishes and a place to serve warm food at meals times.
They had no drawers nor shelves for storage of crockery, as cupboards were still being used for that purpose.
As households became more affluent in the 18 and 19 century, the popularity of these cabinets increased. People were also now able to apportion a room in their homes for meals which eventually became known as the dining room.
Prosperity and wealth always bring higher demands for more and better, so with this, confident wood makers started to innovate new ideas with the traditional sideboard.
These savvy Inventors started designing a more practical piece of dining furniture which eventually became the first outright side board. Now they came with a small drawer or two and with a cupboard and cabinet space too.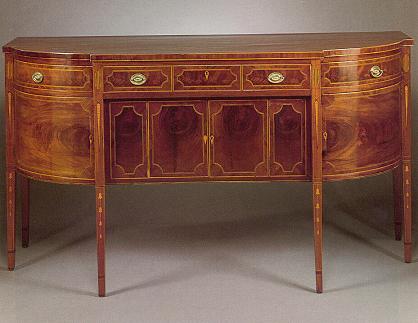 As you can see from the above image, the earlier sideboards had a couple of small shelves added to it to make it more functional. However, they could only hold for a few dining items like plates, spoons, forks and other dining pieces. Larger or more numbered items were still being stored in the kitchen and dining cupboards. 
As time went on the sideboard revolution continued, and carpenters started to add larger cabinet space to these buffets.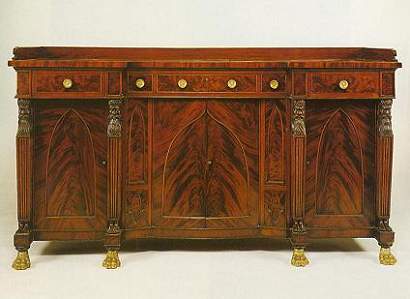 The innovations didn't stop there, sideboard ideas continued to develop. Soon there were many different shapes, sizes, finishes and materials for sideboards and buffets.
From oak, maple, walnut and mahogany, to modern day high gloss mdf sideboards.
Eventually you could buy sideboards that have shelf's, cupboards, shoe storage and larger surfaces for conveniently displaying ornaments, plants, frames, chinaware etc.
Sideboard History summary
First started being used in Europe in the 16 Century

"Status furniture" being used by the affluent and high class

As the industrial revolution caused the typical household becoming more prosperous, the sideboard became a luxury, yet poplar piece of furniture among ordinary people

Simple, early design of just a tabletop –  developed through innovation with added shelves and cupboard space

Used to store the most delicate crockery and utensils as well as everyday items

You can still buy traditional sideboards constructed from hardwood oak, walnut etc

As well as contemporary oak sideboards and mdf & chip wood designs

Evolution increased to more grandeur and stylish modern-day design
Buffets, sideboards or credenza, why the difference in a name? 

Nowadays, the words buffets and sideboards are interchangeable. However, initially, there was a difference between a buffet, side board and credenza. 
Sideboards
Sideboards were designed to be used anywhere in the home, this included the dining area and kitchen. They were built with shorter legs and included drawers and cabinets.
Generally, if the item has short legs or a base that sits directly on the floor with no legs, it is more likely to be called a sideboard.
They were a bit more flexible in their role around the home and were used in the family and living rooms also.
Buffet's
Now buffets, which were also called Credenzas, were used the dining area only. It has longer legs than a traditional sideboard and were solely used for cutlery and to serve hot food at mealtimes.
Credenza
Credenza from the Italian word which meant to taste food for the King, pope or cardinal. Was initially just a rough table with a cloth draped over it in 14c Italy
With Italian immigrants, the word 'Credenza' became the common word for sideboards and buffets in the US and North America. 
In Polish it's named kredens also comes from the Latin credo which means 'I believe'. 
Merging of sideboard designs
As time went on, the different designs of sideboards all merged into one type of furniture with fewer and fewer manufacturers distinguishing between their names.
In modern times the name 'sideboard' became a bit more popular than the word 'buffet', and the phrase credenza has only recently made a comeback in the US.
And even though they are still seen as a dining room furniture item for storing fancy cutlery, plates, tea sets etc. The sideboard is now used throughout the home in living rooms, family rooms, hallways and even bedrooms.
It is an incredibly versatile piece of furniture and perfect for storing everyday items, including clothes, keys, laptops, magazines, toys, stationery and much more.
It is this, the fact that it has such a multi-use piece of furniture that adds to its longevity.
And with such functionality and modern designs, it is still a popular item today as ever before.
Sideboard types
So now we've had our quick history lesson, let us delve into the different sideboards types and their usages. 
The sideboard was designed with one purpose, to house all dining utensils and cutlery in one place. Helping to reduce the growing clutter of the Victorian household it became a useful piece of furniture.
It's tabletop doubled up as the perfect surface to display fancy crockery, to serve food from, and a place for ornaments, lamps and other home essentials. While its cabinets were perfect for storing all types of items.
Dining room sideboards
Perfect for storing cutlery, plates, pots and other cooking and dining essential. The dining and kitchen sideboard helps you to keep all your cooking utensils away and stored in a convenient place.
Allowing you to use your kitchen worktops for primarily preparation and cooking.
Finally, when you are ready to serve up your meals, the dining room sideboard is the ideal place to keep all your plates, cups, bowls other large serving platters which wouldn't fit on your tabletop. 
It's handy during your meal too. The ideal place to put condiments like salt and pepper etc. and a place to put used plates and platters when moving on to the next course. 
For a dinner party, place your desserts and other finishers here while keeping your mains on the dining table until you're ready to serve. 
And for afters, a perfect place to cut cakes and other tricky items which can be challenging to deal with on the dining table.
You can keep knives, forks spoons and other serving items in the top drawers along with gloves, towels and other essential items.
In the cabinet's below, you can choose to keep and store all your fancy porcelain and ceramic ware that only come out to impress the guests on special occasions. Linen, oversized hotpots and more, these cupboards also have ample space for larger cookware.
There's also space for other regular items, including plates, bowls, cups and more.
Sideboards for the dining room are ideal for everyday dining and kitchen items and can really help in unifying the style and design of your dining room furniture together.
Some of our dining room sideboards:
Sideboard for the Living room
The living and family room is the central hub of our homes. Everything that matters is usually stashed away somewhere here.
Unfortunately, our living rooms generally have one problem, it's never big enough. There is always more we need to cram inside it.
Wherever its magazines, remotes, books, your glasses or toys for the kids, a sideboard for the living room conveniently keeps everything tucked away.
This is why the sideboard is the ideal living room furniture.
Not only does it provide essential storage space for larger items, but it has drawers and shelves to put away all types of small everyday essentials including toys, books, manuals and more.
This way you can store the important stuff you need conveniently away, but close at hand too.
It also has substantial surface space to put ornaments, lamps, keys plants and flowers – providing a handy surface area for decorations and adding character to your living room.
Our living room sideboards come in all types of sizes, and they all have great designs and are available in many varieties of colours too.
Wherever it be a single door or a large four-door sideboard, we have the size that you need.
Perfect for games, boards, laptops, and hiding away kids tablets to make sure the kids don't go over their prescribed screen times!
A sideboard for the living room provides plenty storage for everything from toys and board games to books and peripheral electronics.
A long, empty living room wall calls for something with more visual weight and presence, and a sideboard buffet fits the bill.
Some of our living room sideboards:
Sideboards for the hallway
Now people say first impressions matter, so these hallway sideboards are the perfect opportunity for expression and style.
You can add candles to give you the cosy feeling of the glowing dark with a few picture frames to create the ideal warm family feeling. Or why not add plants, flowers and other exciting ornaments for a pleasant entry.
Hallway sideboards are Incredibly handy for corralling essential things we need when going in and out, like keys, gloves, scarves, loose chain, umbrellas, letters, pet toys and more.
Some of our narrow sideboards for the hallway also have shoe storage cabinets at the bottom, enabling you to keep your hallway entrance neat and tidy.
If it's only one piece of furniture you're going to buy for the hallway, make it the sideboard.
Some of our hallway sideboards:
Bedroom sideboards
Bedroom sideboards are perfect for every type of bedroom. Wherever you have a small bedroom or a big one, you can find the ideal sideboard for your needs.
Drawers for smaller items of clothing and cupboards for larger items, bedroom sideboards can easily replace your chest of drawers.
You can also use them as dressers by adding a table mirror on it's surface or hanging a wall mirror above it.
Available in many different sizes, bedroom sideboards have become very common and their popularity seems to be increasing.
With such a vast array of different styles available, whatever themes you have, be it traditional, classical or contemporary, sideboards for your bedroom can easily fit into your room design and even compliment your existing furniture.
If your' after small sideboards for the kids rooms then there are some amazing designs that don't break the bank too available. Made from solid hardwood like oak and walnut for strength and durability, these sideboards will last the test of time.
Sideboard styles and designs
As versatile as it is today, there was a time when the sideboard was extremely bland in style and design. Just a one or two-door cupboard either with low or high legs.
As time has gone on and with manufacturing advances, you can now by from small, medium to large sideboards.
like:
The smallest sideboards you can buy are the single or two-door cupboard sideboards with a couple of drawers above it.
like:
You then have the medium sideboards with three to four-door. These work great in master bedrooms or living rooms. Like the:
or the
And finally, there are more substantial four and six door sideboards.
like the
These larger side boards have ample storage space and a wide surface area for ornaments, lanterns picture frames and more.
Long and lean sideboards are perfect for larger areas. It more extended surface also works as a great display area for ornaments and stuff.
When holding dinner parties, it can be used to place cutlery, snacks, finger food and other irresistible things for your party.
You can also store more cutlery, toys or other items in it and keep everything in one place in its multiple cupboards. Making it much easier to find things when you need them.
And not to forget some of these medium/ larger sideboards also come with shoe storage space too.
This one functional piece of furniture can store, display and serve your items.
They add splendour and grandiose to any room or area and are a great way of self-expression.
Sideboard Materials and Colours
All traditional sideboards were made out of a hardwood. With its enduring popularity and the vast amount of it's trees available, Oak was the perfect wood for UK and European furniture manufacture.
Sturdy and opulent oak furniture graced the Tudor eras with oak sideboards becoming increasingly common.
After the oak period came the walnut era. As manufacturing technology improved, especially in the furniture industry, craftsman now had sawing machines which could cut down and shape walnut.
You could now get walnut veneer inlaid upon the oak, eventually leading to solid walnut sideboards.
The next step in hardwood sideboard manufacturing was the introducing of mahogany. Initially the French and Spanish were the first to use this material. It soon became widely used in the UK too.
Lacquer and varnishing were added with time, but it took a while before manufacturers started using other materials like MDF, chipwood and others to build sideboards from.
MDF sideboards gave manufacturers the freedom to design and build at their will. Being inherently much easier to use than hardwood, MDF and chip wood sideboards became a cheaper way of mass-producing good quality sideboards.
Today all the styles, whether it is traditional hardwood sideboards or more contemporary modern sideboards like high gloss, are available and still as popular.
Side board colours
The traditional natural look was always the most common in Tudor UK. A heavy varnish usually did the trick, and most furniture styles like the Queen Anne designs came from this background.
Slowly with technology, they started adding lacquer, stains, gloss and even matt painted sideboards, making them more appealing to the common market.
Nowadays contemporary oak sideboards as well as high gloss sideboards are very popular, especially the white, grey and black designs.
From just a piece of wood to large six-door large sideboards with drawers and shoe storage, these buffets have moved on a lot from their initial inception in the 1600s.
You can now buy 1 door sideboards with or without drawers. Or 2 door medium compact sideboards, 3 door living room sideboards and larger 4 door sideboards which have 4 drawers too.
Benefits of owning a sideboard
Besides being multipurpose, the range of sizes and shapes of a sideboard makes it adept at filling those odd spaces a few other pieces of furniture can handle.
Both beautiful and functional, it's a must-have piece for nearly every home.
There are so many benefits from owning a sideboard. Below we list just a few for each room.
Use in the hallway to:
Keep essential items you need when leaving and entering the home
First impressions count, a perfect place for stylish ornaments
Store everyday items like keys, scarves and even store your footwear
Save space in this crowded area and more
Living room benefits:
Perfect for placing essential items on top as well ass in the drawers.
Store your books, magazines, toys, laptops and more
Medium and larger sideboards have ample surface space for entertainment units to sit on
Use for picture frames, lamps and other display items
Keep your everyday things in one place for safekeeping and convenient storage
Perfect picture place with a featured wall mirror hanging on top
Dining room benefits
Store safely way your expensive dinnerware
Keep regularly and everyday items like bowls plates. hotpots in a convenient place
Knives forks and spoons kept together ready for mealtimes
Ideal for putting fruit bowls and snacks on when not in use for serving meals
Bedroom benefits
Store undergarments as well as regular clothes, linen etc
Keep kids toys safely out of the way and in a secure place
Safe space on other furniture, ideal for small bedrooms or tight areas
Artbooks and other magazines
Use as a dresser too, place a mirror on top no problems
Can double up as a lamp table to
All in all, a very versatile piece of furniture that not only fit into any setting but into any area and for any use too. It's multi functionality helps you save money on other items of furniture.
How to choose the best sideboards for your home
The first question to ask yourself is, where do I need a sideboard? Is it the hallway or the living room? Or do I need it in the dining or bedroom?
Once you have made up your mind, the next most crucial thing to do is check how much space you have to play with. There are many small, compact and medium sideboards which will fit into many rooms and areas.
If you have a larger area, then a more substantial sideboard might be just right.
The theme of your room matters too. Some people like to contradict their styles with contemporary and traditional styles together. While others prefer to stick with one theme through the house or room by room
Another thing to consider is what will be the primary use of the sideboard.
Is it for the dining area? If so you might want one with many drawer and cupboards.
If it is for the kids' bedroom, then a smaller compact one might do.
Or for the living room, then one with ample surface space might be ideal.
Either way, you can find more information in our sideboard category pages here or for more specific ones please clock on the following:
2 door sideboards  3 door sideboards  4 door large sideboards, oak sideboards, walnut sideboards,
So whatever type of sideboard you're after, we are sure that we have something in our collection that will fit your budget and style.
Our sideboards most FAQS
Here we will try and answer some of the most frequent questions in regards to sideboards. We have grouped together similar queries and answered them as comprehensively as we could.
What are sideboards used for?
Well if used in the dining room they are used for storing cutlery and dining accessories as well as a convenient place to place meals on top before serving at the dining table.
In the living room for storing everyday items like books, toys, keys etc. and displaying ornaments and useful things like lamps, entertainment units etc.
In the bedroom for clothes and as a lamp table and finally in the hallway to keep everything neat and tidy while being a useful place to pick and drop things on the way out and back.
Efurniture UK 🙂
Why are sideboards so expensive?
Traditionally they were seen a piece of status furniture and manufacturing was expensive. But as production innovation has improved the cost of buying a sideboard had come down drastically.
We have a whole range of sideboards from only £149.99
What are sideboards made of?
Primarily hardwood like oak, walnut, mahogany etc. But also available in MDF and chip wood with glass doors. High gloss sideboards are very popular too nowadays.
How tall, high, deep, wide are sideboards?
Dimensions vary from product to product. You can find narrow sideboard, small sideboards and even extra-large six-door buffets,
What shop/store sells sideboards?
Efurnitureuk.com 🙂 😉
How to clean sideboards?
Maintenance is easy with high gloss and wooden sideboards, just a polish and wipes usually do the trick.
How to decorate, paint, colour, style sideboards?
Sideboards usually come finished with a varnish, lacquer or paint. However, if you want to decorate them and buy a simple varnish one and sand it down and paint it as u wish, however we don't advise this unless the sideboard you bought is for this purpose. You don't want to mess up a good looking sideboard!
Where to buy sideboards?
Erm…. efurnitureuk.com 🙂 😉 🙂
Where do sideboards go?
Anywhere you have space for one. However the most common places are:
Dining room sideboards
Sideboards for the living room
Narrow sideboards for the hallway, and
Bedroom sideboards
Where to buy Cool sideboards in the UK?
Cool sideboards = efurnitureuk.com
Are you finally ready to buy your sideboard?